All About My 5 Day Juice Cleanse
I drank nothing but juice for five straight days this week! You read that right, FIVE. DAYS. I didn't realize how interested you all would be on this topic, I was quite surprised at the curiosity and questions I received on Instagram (I saved the stories in a highlight if you'd like to watch), so I decided to make a dedicated post talking about my experiences and answering all of your questions. To start with, I did my research ahead of time and ordered the 5 day Skinny Cleanse from Raw Generation based off of the customer reviews, and results. I am not being paid for this post, nor did I receive this cleanse for free. All opinions are my own and everyone's experience is sure to vary compared to mine, I'm sharing this solely by request of you all so I hope this answers any and all questions you may have about my juice cleanse experience! A couple of my friends also did the same cleanse at the same time so we we're message each other every day comparing symptoms and results! Check out my friend Catherine's blog post on her experience here!
*Always consult with your doctor prior to doing a juice cleanse. I am by no means a health expert, this is all just my personal experience and what I have learned from doing my own research!*
About This Cleanse
Raw Generation delivers your juice to you in a big cooler (you can see it in my Instagram highlight labeled "Juice Cleanse"). They are 100% raw fruit and vegetables, cold pressed and flash frozen to maintain ultimate nutritional benefits of the fruits and vegetables being used. Raw Generation's juices are not pasteurized which means they are never heated up, this also allows the retention of maximum nutrition necessary to see the health benefits of a juice cleanse, this also means that if you are pregnant you should not do this cleanse.
Why I Did a Juice Cleanse
Last year I went from working full time on my feet all day, to being a full time work from home mom. I quickly fell into a sedentary lifestyle on my laptop most of the time that I wasn't playing with Stella. I taught myself how to quickly eat out of convenience and snack when I got the chance because my baby was taking up most of my time during the day. In the evenings I would over indulge in sweets or salty snacks and I felt I was getting addicted to processed food and sugar. These very bad eating habits were only amplified over the holidays and by the end of the year I was feeling sick, tired, and bad about myself. Not only had I put on weight, I was feeling sluggish and tired all the time, no energy to do anything and just overall gross. I knew I needed a change.
I have always entertained the idea of doing a juice cleanse but they're kind of pricey and if you know me you know I am FRUGAL. Especially when I have to spend money on something other than clothes (haha). I had been doing some research about how you can reset your body with fasting and different kinds of cleanses. Some of the benefits that come with a juice cleanse include but aren't limited to: increased mental clarity, more energy, deeper sleep, clear skin, hydration, increased senses (sight/smell/taste), detoxification, and weight loss. Most importantly I read a lot about how a juice cleanse is a great jumping off point to start a healthier lifestyle.
The first time I heard about this brand was on my friend Catherine's Instagram, she also did the cleanse at the same time and it was great to have an accountability partner! This cleanse also happened to be on sale for $99 at the beginning of the year which did influence my decision slightly (remember, frugal). Shipping was pricey, but they had to rush the frozen juices to me before they thawed and went bad so it was a price I was willing to pay (around $75).
I'm sharing all of the symptoms I experienced during my five day cleanse, so make sure to read about everything that happened to my body, including how much weight I lost, at the end of this post!
The Juices
For the five day cleanse you get 30 juices (six per day), in 5 different flavors to drink during your cleanse. The idea is that you can drink any flavor of juice you want whenever you feel hungry and you aren't required to drink all 30 juices during the five days to achieve results. I decided to be more organized with my cleanse and planned to drink a juice every two to three hours during the time I was awake and drink 6 juices a day alternating through the flavors. I also drank them in order, not really sure why, it just happened that way consistently every day.
The juices are all very sweet and delicious I had no problem guzzling down all of the flavors during the day! I found them to be filling, refreshing and overall pleasant to consume. Here's a list of each juice in the order that I drank them each day, their ingredients, and what they claim to do!
INGREDIENTS: apple, spinach, kale, collard, lemon, and filtered water

WHAT IS DOES: This juice is for "all day energy without jitters or the 3pm crash." I started each day with this juice to give me energy and start my day strong. You get two of this flavor a day so I usually had the other one toward lunch time!
INGREDIENTS: pineapple, cucumber, aloe vera, and filtered water
WHAT IS DOES: This juice is "the hydration your body is screaming for," and is very refreshing. I drank this juice as a mid-morning snack. The cucumber, pineapple mixture is delicious!
INGREDIENTS: green apple, cucumber, spinach, celery, and filtered water.
WHAT IT DOES: This juice is for putting "nutrition in & toxins out." Most days I drank this one around lunch time!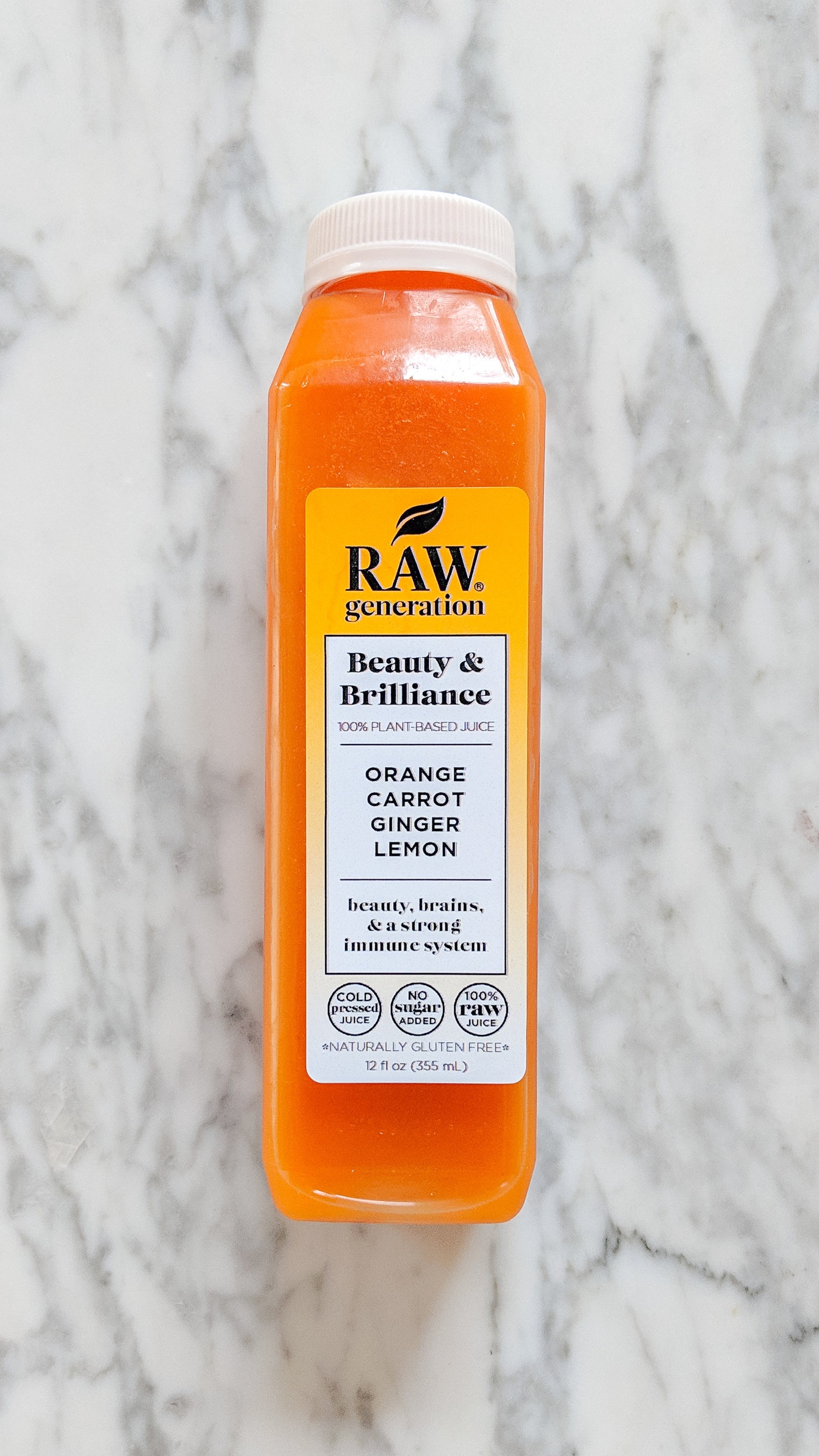 INGREDIENTS: carrot, orange, lemon, ginger, filtered water.
WHAT IT DOES: This juice is for "beauty, brains, and a strong immune system." This juice I drank around dinner time and was one of the more filling and satisfying juices. I love anything with ginger and lemon too, it was delicious!
INGREDIENTS: carrot, green apple, beet, lemon, and filtered water.
WHAT IT DOES: This one "helps metabolize proteins so you stay strong and fit." I love beets and this juice was one of my favorites of the bunch. It was also the sweetest tasting so I loved saving it for the end of the day, kind of like a dessert!
How I Felt & Symptoms
DAY ONE
The first day was tough. I thought it would be really fun to try and quit caffeine cold turkey today on day one, that lasted a whole 3 hours. Raw Generation actually recommends not cutting out coffee if you are a regular coffee drinker (like me). If you do continue to drink coffee during the cleanse it just can't have anything added into it, which is totally fine since I drink my daily french presses straight up!
I got through most of the day okay, but once dinner time hit I had to gnaw on a carrot to get me through (they also said this was ok, you can also eat a couple raw almonds), it didn't help that I was still cooking meals for my husband and daughter (the hubs offered to make meals for him and Stella following this tough first day). It is suggested that you prepare your body for a juice cleanse prior to starting, which I did not do and I think this also made it a more difficult start for me. If I had been healthier in the days leading up to my cleanse I may not have struggled so much on the first day.
DAY TWO
Day two was easier but I felt kind of heavy and bloated. I went from drinking a couple La Croix a day to drinking 6 bottles of juice accompanied by up to 80oz of water a day. This lead to substantial water weight by day 2, and I think the scale said I actually gained weight at this point, I chocked it up to water retention. Today I left the house during dinner time. Evenings were the hardest for me since my previous routine had been to mindlessly snack while I worked and juices didn't seem to be cutting it for this gal's sweet tooth. Somehow I stuck it out! Today I started out super hot and sweating and then at the end of the day I was freezing cold, I had to take a hot shower just to feel normal and when I went to bed I had to put on multiple layers and slipper socks with two blankets, I felt cold to the bone!
DAY THREE
Day three was even easier, the water weight had subsided and my stomach was feeling and looking flatter. My face was looking less puffy and my fine lines and wrinkles were actually GONE (thank you, h2O), which is crazy because normally I have one that's like the damn grand canyon on my forehead! The scale was showing that I was down 5lbs and I was getting the best sleep I'd had since I was a teenager. I did notice today that although I wasn't feeling hungry, I was having signs of low blood sugar such as lightheadedness and flutters in my chest. Each time I felt this I had a juice and it instantly subsided. In the evening I also noticed my legs and joints were cramping. This was due to either lack of potassium or not drinking enough water, I chugged a couple bottles of water and it was gone by the next morning.
DAY FOUR
Day four went by quickly since Stella and I had some errands to run. I really just wanted to chew anything at this point even though I wasn't feeling hungry. I was starting to get bored of juice and I only drank five of the six I had allotted for the day.
DAY FIVE
The fifth day also went by pretty fast, but I only drank three of the six juices. I weighed myself at 6pm and was down 7lbs. Dustin took me to Marukin Ramen downtown Portland and that was the end of my five day cleanse!
My Plans For After
Juice cleanses like this are quick and effective but the results are not permanent unless you choose to make a lifestyle change after. I knew going in to this cleanse that I had to make some major changes to my health habits and I really wanted to jump in with both feet. I'm not going on to a strict diet, but I do plan to limit sugar and dairy (I only eat meat rarely, that will stay the same), eat as few processed foods as possible, portion control and eat smaller more frequent meals, and lastly, stick to a weekly workout plan. I do well in workout classes vs. going to the gym alone so I've already signed up for my first StarCycle class. Paying for and attending a class will help to hold me accountable for my fitness goals, and I've also heard spin is fun and effective for getting into great shape!
Will I Do It Again?
Yes! Enthusiastically! In fact I am already planning to do another cleanse in a few months and my husband is interested in joining too. He kept complimenting me on how healthy I looked all week long and how he regretted my offer to include him on my juice journey.
Overall I feel amazing, I honestly don't remember the last time I felt so good! I hope this post helped to answer some of your questions about juice fasting, also feel free to reach out via email or Instagram DM if you have questions that I didn't answer in this post, I would be happy to chat more if you are considering doing a cleanse yourself!
thanks for reading
xo
pin this!